GLADAID ENTERPRISE CO.,LTD are well established as one of the prominent m manufacturer, supplier and Exporter of the enormously fabricated collection of
Tubular Key Machine
. With an abundance of experience, backed by a team of highly qualified engineers, skilled personnel and technicians, the company brings with it a guarantee of quality, reliability and enduring commitment through continuous after sales service.
We are confident to meet the requirements of all customers with reasonable prices, punctual shipment, and strict quality control. If you are interested in
Tubular Key Machine
, our company is your best choice. Do not hesitate to
contact us
. Looking forward to your enquiry.
Tubular Key Machine
Model - GL-T33P
This lock pick tool is main for portable easy-carried key machine, it can cut standard size scquence tubular keys by code with tungsten cutters.

Specifications:
Dimensions: 110 mm(W)*160mm(D)*70mm(H)
N.W. 0.4 Kg
G.W. 0.7 Kg
Meas. 0.04 CUFT

GLADAID ENTERPRISE CO.,LTD
GL-T33P
none
999999999
http://schema.org/InStock
USD
2020-12-31
https://www.keymachine.com.tw/tubular-key-machine.html
GLADAID ENTERPRISE CO.,LTD
90
out of
100
based on
100
user ratings
Enquiry Now
Products List
View Detail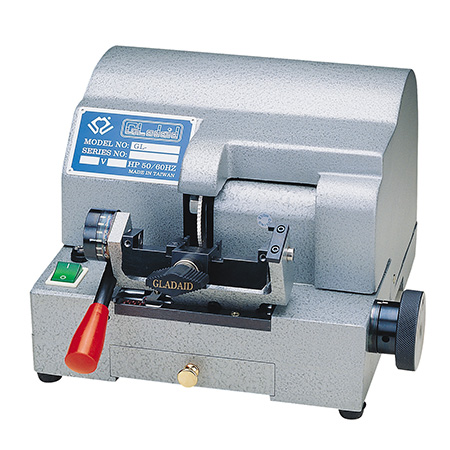 GLADAID ENTERPRISE CO.,LTD
To find and shop the best Tubular Key Machine, you need to know about the highest quality of Tubular Key Machine manufacturer, supplier, wholesaler, distributor, OEM and ODM from a factory in Taiwan
GL-4000
none
999999999
http://schema.org/InStock
USD
2020-12-31
https://www.keymachine.com.tw/code-key-cutting-machine.html
GLADAID ENTERPRISE CO.,LTD
90
out of
100
based on
100
user ratings
It's OEM, customer-made, versatile code machine cuts keys with different angles of inclination for either right-or left-turn keys. Specifications: Dimensions: 285 mm(W)*255mm(D)*240mm(H) N.W. 16 Kg G.W. 18 Kg Meas. 2.48 CFT Motor: Single Phase, 1/5 Hp, R.P.M. 1675 110V or 220v, 50 Hz or 60 Hz